Selected Important Collections of the Slavonic Library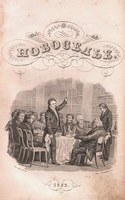 An important part of the collections of the Slavonic Library is formed by private libraries, which were acquired through donation or purchase particularly in the 1920s and 1930s. They contained the essential literature on the nation or geographic region concerned, sometimes also on the national literary production, and they were continuously expanded through the acquisition of both historical and modern books and periodicals.
The very first collection obtained by the library was the private collection of Vladimir Nikolaevich Tukalevskii. In 1923, he offered it for free to the Czechoslovak Ministry of Foreign Affairs as part of his proposal to establish a Russian Library.
A specific place in the collections of the Slavonic Library is taken by the library of the bookseller and publisher Aleksandr Filippovich Smirdin from Saint Petersburg, which mirrors the cultural interests of the Russian society in the second half of the 18th century and in the first half of the 19th century. Thematically coherent wholes are formed by Milan Rešetar's library of Ragusan literature, containing books and manuscripts by Dubrovnik writers, books printed in Dubrovnik and publications about Dubrovnik issued all over the world, and by a collection of manuscripts from northern Russia, which was assembled by Aleksandr Dmitrievich Grigor'ev.
The most comprehensive collection of the 20th century in the Slavonic Library is the collection of books and periodicals of the Russian Historical Archives Abroad, abolished in 1945, a major part of which is formed by books and periodicals issued by Russian, Ukrainian and Belorussian émigrés all over the world in 1918–1945. In 2007, the collection of émigré periodicals was inscribed in UNESCO's Memory of the World register of written cultural heritage. During cataloguing, most of the collections acquired were dispersed in the holdings of the Slavonic Library. Only the collections of A. F. Smirdin, A. D. Grigor'ev and the Russian Historical Archives Abroad were deposited separately, and their composition and size can thus be studied without problems.