The Library of A. F. Smirdin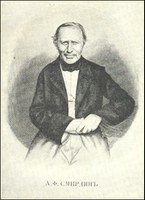 An independent section of the Slavonic Library collections is a fragment of the library of the bookseller and publisher Aleksandr Filippovich Smirdin (1795–1857) from Saint Petersburg. It comprises more than 11,000 volumes of Russian literature from the 1720s until the 1850s. In its time, Smirdin's bookshop was an important intellectual centre of Russian society. The printed catalogue of the library, which has more than 1,300 pages and contains 18,364 items, is an important bibliographic source for the study of Russian literature at the turn of the 19th century.
In 1879, the library was moved from Saint Petersburg to Riga, where it was gradually sold off on the second-hand market. In 1932, the remaining 11,262 titles were purchased for the Slavonic Library by the Ministry of the Foreign Affairs of the Czechoslovak Republic with the financial support of the Institute of Slavonic Studies. After the collection acquired was compared with the printed catalogue, the greatest losses were found in the humanities sections; the highest number of the books preserved concern housekeeping, medicine, geography and various technical disciplines. The Slavonic Library attempted to reconstruct Smirdin's library by replacing the lost and sold volumes from other sources. Although this plan could not be fully implemented, numerous books lacking in Smirdin's original collections are represented in other sections of the Slavonic Library.
The book collection contains approximately 2,000 printed books from the 18th century; a greater part was published in the 19th century.