The Microfilming and Digitalisation of the Periodicals of the Russian and Ukrainian Émigrés in Czechoslovakia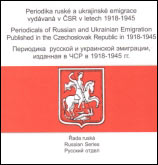 The financial support from the Senate of the Parliament of the CR made it possible in 2000 to microfilm and also digitise a total of 180 titles of the periodicals of the Russian and Ukrainian émigrés issued in Czechoslovakia in 1918–1945. For the digital treatment, 103 periodicals issued by Ukrainian émigrés and 77 periodicals issued by Russian émigrés had been selected.
In each series, the periodicals have been divided into 5 thematic groups:
periodicals of political parties, organisations and movements
periodicals of associations, societies, fellowships, commissions and committees
periodicals of pedagogical, educational and research institutions and organisations
student and youth periodicals
periodicals of mixed content, socio-political periodicals, cultural- educational periodicals, economic and military periodicals
The selection was determined by the aspect of the uniqueness of the individual titles (mostly including journals that were issued for a short period of time or at irregular intervals) on the one hand and on the other by the need to save the periodicals in danger of acid-paper degradation.
The digitised titles are accessible within the Kramerius digital library.
For the sake of the protection of the collection, these titles are accessible only in digitised form.
Alphabetic list of all periodical titles