News
Opening of the Slavonic Library
Opening hours of the Slavonic Library (incl. the reading room): Monday - Friday 9:00 - 19:00, Saturday 9:00 – 14:00

Summer opening hours from July 4 to August 28: Mon, Wed, Fri 9-14, Tue, Thu 9-19, Saturday closed. The entire library will be closed on Monday  July 4, on public holidays from July 5th to 6th, and from July 25 to August 7.

Normal operation will start again on Monday, August 29.
---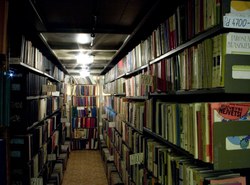 From 13 April 2021, documents stored in the building of the National Library in Hostivař are again available.
This applies to the following departments:
Bulgarian (signature B),
Belarusian (K),
Sorbian (L),
Macedonian (Mk),
Polish - older funds (P),
Slovenian (S),
generalities, dictionaries, encyclopedias (O)
We make the requested newspapers published after 1945 available in the study room of the NK building in Hostivař after confirming the order.
---
New book published by the Slavonic Library

Československo-jihoslovanská liga (1921–1929) a Československo-jihoslovanská revue (1930–1939). Bibliografie časopisů / sestavila a úvodní studii napsala Kateřina Kolářová

• Czechoslovak-South Slavic League (1921–1929) and Czechoslovak-South Slavic Review (1930–1939). A Bibliography of Journals / compiled and edited by Kateřina Kolářová

1st ed.– Prague, 2022 – 354 p. – (Bibliografie Slovanské knihovny; 82) – ISBN 978-80-7050-757-5

The publication, edited by Slavist and Balkanist PhDr. Kateřina Kolářová, DiS., focuses on one chapter of the rich Czechoslovak-South Slavic (Yugoslavian) cultural relations in the interwar period – the publication of the journals Czechoslovak-South Slavic League (1921–1929) and Czechoslovak-South Slavic Revue (1930–1939).

Price: 359,- CZK