Early Printed Books in the Collection of the Slavonic Library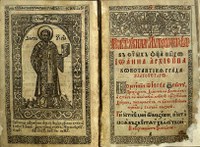 The Slavonic Library owns an extensive collection of early printed books in Cyrillic and several Glagolitic early printed books. Information on them is available in the catalogue Cyrilské a hlaholské staré tisky v českých knihovnách [Cyrillic and Glagolitic Early Printed Books in Czech Libraries] / edited by Františka Sokolová. Praha, Slovanská knihovna 1997.
One of the rarest Glagolitic printed books is the Postila by the Slovene Protestant reformer Primož Trubar, published for the Croats in Tübingen in 1562.
The earliest books printed in Cyrillic in the holdings of the Slavonic Library come from Ukraine. They include the famous Lviv Apostol (1574) and the Ostrog Bible (Biblia sirech, 1581), which were printed by the typographer Ivan Fedorov. Among other books printed in Lviv, the Library owns i.a. the Evangelion (1636), richly illustrated by Pamva Berynda. From Kievan books, one can mention, for example, Leiturgiarion-Sluzhebnik (Leiturgiarion si est Sluzhebnik, 1629), Paterik ili otechnik pecherskii (1661), Mech dukhovnyi (1666) and Truby na dni narochityia (1674) by Lazar' Baranovich.
The majority of the Cyrillic printed books owned by the Slavonic Library are of Russian provenance. Examples of those published in Moscow include: Chetveroevangelie (1627), the treatise Lestvitsa by Ioannes Moscho (1647), the first edition of the Bible in Russia Biblia sirech (1663), Ulozhenie by Tsar Aleksei Mikhailovich (1649), Skrizhal, a collection of treatises and documents from the church council held in Moscow (1656), and Psaltir, a translation of the rhymed Psalter by Simeon Polockii, published in his own printing workshop in Moscow (1680). Very rare items are the Amsterdam Cyrillic printed books published for Peter the Great shortly before the introduction of the new civil script grazhdanka for secular purposes: Kratkoe sobranie L'va Mirotvortsa (1700) and Simvoly i emblemata (1705).
From Belorussian Cyrillic printed books, the collection of the Slavonic Library contains e.g. a defective Psalter (Psaltir), published in Vilno, now Vilnius (1641), and The New Testament and the Psalter from the Kuteino printing house (Novyi Zavet i psaltir, 1652). Among Bulgarian early printed books, it is worth mentioning the work Kyriakodromion by Sofronius of Vratsa, which was published in Rymnik, Romania (1806).
The Library also has a large number books of both translation and original Russian literature from the 18th century printed in grazhdanka. From the period of Peter I, there are mostly writings on military affairs (A. Schoonebeck, J. S. Buchner, S. Puffendorf), on architecture, and official texts, but also a Russian translation of the book by Mavro Orbini on Slavs Kniga istoriografiia published in Saint Petersburg (1722). More information on early printed books in Cyrillic (grazhdanka) can be found in the catalogue: Katalog starých ruských tisků z fondů Slovanské knihovny tištěných azbukou [A Catalogue of Russian Early Printed Books from the Slavonic Library Collections Printed in Cyrillic]. Vol. I: 1710–1775; Vol. II: 1776–1787; Vol. III: 1788–1795 / edited by Františka Sokolová. Praha, Slovanská knihovna 2004, 2008, 2014).
From books printed in the Latin script, the Slavonic Library owns mainly works on Polish history and religious polemics, some dating back to as early as the 16th century (S. Zaborowski, M. Kromer, B. Herbert; Simonis Starovolsci Polonia by S. Starowolski from 1656), but also a treatise by Johann Daniel Hoffmann De typographiis… in Regno Poloniae (Gdańsk, 1740). As far as Croatian books are concerned, M. Rešetar's library contains a number of first editions (D. Ranjina, D. Zlatarić, I. Gundulić, B. Kašić, J. Micaglia). This collection further comprises one leaf from the incunabulum Fasciculus temporum by Werner Rolewinck from 1481. As for Slovenian books, one can mention at least Carniolia antiqua et nova (Ljubljana, 1680–1681) by Janez Ludvik Schönleben and Stemmatographiae Illyricianae (Ljubljana, 1702); Sorbian works include Abraham Frencel's De originibus linguae sorabicae (1693) and Martin Luther's Domjaza Postilla (1615). Among other things, the Library also has the first edition of a rare Czech book, Respublica Bohemiae by Pavla Stránský, published by Elzevir in Leiden (1634), and an incomplete copy of the second edition of the Bible by Pavel Severin (Biblij Cžeska, 1537).
Interesting early printed books on Slavic issues include the first edition of Il regno degli Slavi (1601) by the Dubrovnik Carthusian Mavro Orbini, who was considered to be the father of Pan-Slavism, and De originibus slavicis by Joan Christophori de Jordan (1745). Concerning Russian items, the Library's collection contains Russian travelogues – Siegmund von Herberstein's Moskouitische Chronica (Frankfurt, 1579), Adam Olearius' Voyages… faits en Moscovie, Tartarie et Perse (1719), Paul Oderborn's Ioannis Basilidis Magni Moscoviae ducis vita (1585), Jan Łasicki's De Russorum … religione… (1582) and many others.
Artistically remarkable items are books with copperplate engravings from the 18th century. These include, for instance, Russian Zhitie Slavnago Basnotvortsa Ezopa and several editions of Briusovskii's calendar (Kniga imenuemaia Briusovskoi kalendar), South Slavic books published in Vienna and engraved by Christofor Žefarović: Izobrazhenie oruzhii Illyricheskih (1702) by Pavao Ritter-Vitezović or Žefarović's Opisanie s/via/tago grada Ier/u/salima (1771).