Exhibit of the Month - October 2023
October 11 - November 14, 2023 Ante-room to the General reading Room (gate A), open Monday to Saturday 9 am - 7 pm (see opening hours of the NL)
Admission 20 CZK (free for the NL readers)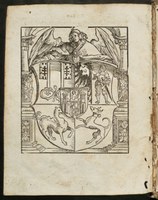 The Coat of Arms of the City of Pilsen in the New Testament by Jan /Hans/ Pekk
NL Prague 54 C 14, fol. ff6b, uncoloured
The New Testament : The New Testament according to the order and pure truth , as Saint Jerome cleansed it from old heresies that arose in those times and gave it to the Christ´s Church:  which accepted and confirmed such an establishment and correction of the law and took it to teach about the ways of the Lord and for the salvation : corrected with a great diligence in the Czech language so pleasant in our times, and printed with beautiful illustrations : Register of Epistles and Readings for Sundays, Feasts and Holy Days throughout the Year. -- [Pilsen : Jan Pekk, 1527]. -- [8], ccxxv, [27] l. : il. ; 4° (22 cm)
The coat of arms of the City of Pilsen, the craddle of Czech book printing, used by Jan (Hans) Pekk in the New Testament printed in 1527 right in Pilsen, was chosen as the exhibit of the month from the rich heraldic material in the collections of the Manuscripts and Early Printed Books Department, National Library of the Czech Republic.
But this is not the first time when the plate appeared here. It was used by printer Hieronymus Höltzel as early as 1518, in a book also printed in Pilsen. The image is thus the evidence of the migration of plates among the workshops of individual printers.
The interesting feature of the coat of arms of the Ciy of Pilsen is the fact that it appears not only in this integrated form in several other designs, but the heraldic figures from individual fields of the coat of arms are also found separately, for example in some bordures.
From the artistic point of view, the half-figure of a winged angel is important, which was not only an inspiration, but a direct model for the Prague woodcarver marked with the monogram "EWA", who worked in the graphic studio of printer Pavel Severin of Kapí Hora.  This plate, copying the half-figure of an angel, this time separately without the coat of arms, was used as an illustration by Pavel Severin first in 1537.