Exhibit of the Month - May 2023
May 10 - June 6, 2023 Ante-room to the General reading Room (gate A), open Monday to Saturday 9 am - 7 pm (see opening hours of the NL)
Admission 20 CZK (free for the NL readers)
Gregorius papa I. (Magnus): Homiliae quadraginta in evangelia
mid 11th century
NL Prague, shelf mark IV D 7, fol.
In the rich manuscript collections of the National Library of the CR, we can also find a culturally and historically significant Latin codex of 155 folios. A substantial part (fols. 1–144) of this parchment manuscript – with folios of 28x19 cm written in Carolingian minuscule – contains the text of The Forty Homilies on the Gospels by Pope Gregory the Great (ca 540–604, pontificate 590–604), a mediaeval "bestseller". The codex also includes a paper gathering from the 15th century added subsequently, which contains the following parts of the same document (fol. 145–155). An earlier record from the first half of the 12th century containing cantus missae with St Gall neumes notation is found on the fol. 41v.
The manuscript is one of the essential documents of Bohemical character, as it was written around the middle of the 11th century in the Benedictine monastery in Prague Břevnov, and is thus, most likely, one of the first documents of the activity of the Břevnov scriptorium, established in the period of the life and work of Abbot Meinhard of Niederaltaich (1035/1044–1089).
The Gregory´s topic was very popular in (early) mediaeval environment, as is evident from the whole set of Latin and Old Church Slavonic documents that were imported, copied or translated and became part of Latin and Old Church Slavonic literature of early Přemyslid Bohemia. The most important out of them is the Old Church Slavonic translation of the text of the Homilies on the Gospels by Pope Gregory the Great, which is traditionally known in the Slavonic environment as Besědy na evangelije. The translation originated in the 11th century Bohemia and is usually connected with the activity of Sázava Monastery (1032–1096/7). From the 13th century, the document has been preserved in the East Slavonic environment in a number of complete records or in the form of extracts. The manuscript IV.D.7 of Břevnov provenance represents the closest so far known Latin parallel to the aforementioned Old Church Slavonic translation. It is important for discovering the beginnings of Czech culture and education. It is also an important source for many disciplines, like mediaeval and patristic studies, Latin philology and Slavonic studies, palaeography, textology etc.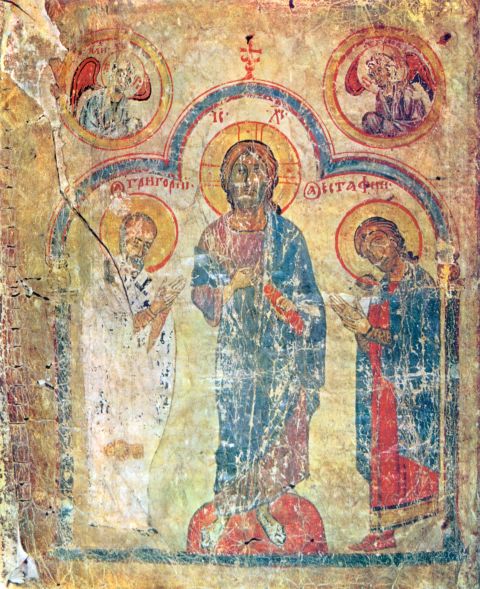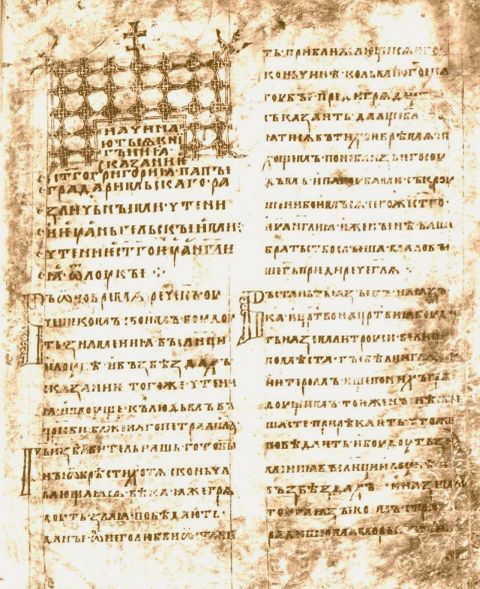 The Old Slavonic translation of The Forty Homilies on the Gospels by Pope Gregory the Great (2nd half of the 11th century, Sázava Monastery) in Cyrillic script of the Russian origin from the 13th century (the so-called Pogodinsky manuscript).
Left: The illumination depicts Jesus Christ in the middle, St. Gregory the Great at His right and St. Eustace at His left.
Right: The beginning text of the First Homily from Gregory´s work