Manuscripts and Early Printed Books Department
Actualities
Small book with a great mystery
National Library of the Czech Republic boutht a small prayer book from 1655 at Dreweatts and Bloomsbury Auctions in London. This interesting manuscript belonging to Anna Kateřina Karbanová from Volšany also served as a memorial and brought many new insights into the Bohemian exultant culture.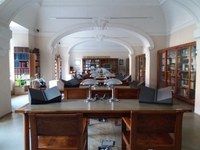 New Opening Hours
Mon          9:00 - 17:00
Tue          9:00 - 17:00
Wen          11:00 - 19:00
Thu          9:00 - 17:00
Order books to our Reading Room electronically: from the General Catalogue I, separate (the separate mode is for ordering 1. Manuscripts, Incunabula; 2. Early Printed Books via STT).